Description
Chinook
The RDG carbon booms are made in the USA. The 24mm diameter tubing is the smallest in industry and provide the ultimate in small grip comfort and confidence. Ideal for cold weather, small hands or those that just like the an easy to grasp boom in transitions and blasting across the water. The boom is uses a 50cm tail that is ultra stiff and allows for straighter boom body tubing. A new loop-n-go outhaul block has been designed and features a quick and central sail position ideal for wave, bump-n-jump small freeride type sails. The rear adjustments have Twin pin stainless steel verticale slide adjustment collars. Nice boom grip features harnesslines index markings. This boom has beautiful features and is designed for performance!
Specificaties
| Size (cm) | Material | Weight (kg) | Diameter | Head |
| --- | --- | --- | --- | --- |
| 135 – 185 | 100% pre-preg carbon | 1,98 | 24,5mm | Rdm & Sdm |
| 150 – 200 | 100% pre-preg carbon | 2,06 | 24,5mm | Rdm & Sdm |
| | | | | |
Specs:
Range: 135-185cm
Grip Diameter: 24.5mm
Weight: 4.5 lbs
Inside width: 35cm
Range: 150-200 cm
Grip Diameter: 24.5mm
Weight: 4.7 lbs
Inside Width: 35cm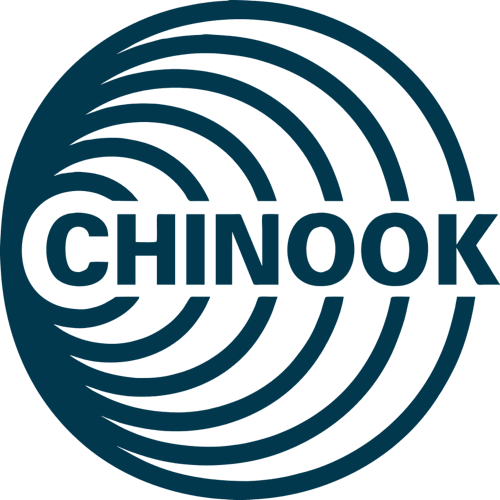 Over Chinook
Innovative windsurf equipment for over 25 years
Chinook has been designing and manufacturing innovative parts for windsurfing for 25 years. The Chinook one-piece fin/mast box and the clamp-on boom head are just a few of the original designs that have advanced windsurfing to where it is today.
Chinook takes pride in USA design and manufacturing. This enables us to offer the best designed, best built products available.Chinook has diversified into other exciting water sports including wakeboarding, water-skiing, surfing, sailing, and kiteboarding. Our enthusiasm for these sports inspires us to design and produce products that add to the fun experienced by all.